Now Available on Instant Download
Sound effects can be used royalty free in
· Film and Video Productions
· TV and Radio Programs
· YouTube and Internet Videos
· Corporate Videos
· Training Videos
· Tutorials
· Instructional DVDs
· Video Trailers
· Presentations
· Multimedia Projects
· Animations

· Slide-Shows
· iPhone and iPad Apps
· Computer and Video Games
· Commercials
· Advertising
· Live Performances
· Theatre Plays
· Audio Books
· Podcasts
· Software Applications
· and just about any other project!*
Aerosol can spray 01
Aerosol can spray 02
Aerosol can spray 03
Aerosol can spray 04
Aerosol can spray 05
Aerosol can spray 06
Air conditioner 01
Air conditioner 02
Aircraft - airliner landing
Aircraft - cabin ambience 01
Aircraft - cabin ambience 02
Aircraft - exterior boarding
Aircraft - exterior flying steady
Aircraft - large airliner fly-by 01
Aircraft - large airliner fly-by 02
Aircraft - large airliner fly over 01
Aircraft - large airliner fly over 02
Aircraft - large airliner fly over 03
Aircraft - large airliner lift-off 01
Aircraft - large airliner lift-off 02
Aircraft - large airliner take-off 01
Aircraft - large airliner take-off 02
Aircraft - large airliner take-off 03
Aircraft - mid-size airliner fly-by
Aircraft - mid-size airliner fly over 01
Aircraft - mid-size airliner fly over 02
Aircraft - mid-size airliner lift-off 01
Aircraft - mid-size airliner lift-off 02
Aircraft - mid-size airliner lift-off 03
Aircraft - mid-size airliner take-off 01
Aircraft - mid-size airliner take-off 02
Aircraft - mid-size airliner take-off 03
Aircraft - small airliner fly-by
Aircraft - small airliner fly over 01
Aircraft - small airliner fly over 02
Aircraft - small airliner fly over 03
Aircraft - small airliner take-off 01
Aircraft - small airliner take-off 02
Aircraft - small commuter plane fly-by
Aircraft - small commuter plane take-off
Aircraft - small-to-mid airliner fly over 01
Aircraft - small-to-mid airliner fly over 02
Aircraft - small-to-mid airliner take-off
Aircraft - taxing interior
Aircraft - waiting for take-off exterior
Airplane toilet ambience
Airplane toilet flush 01
Airplane toilet flush 02
Airplane turbines
Airport baggage carousel
Airport gate PA announcement
Airport security checkpoint 01
Airport security checkpoint 02
Airport terminal ambience
Alarm clock analog - ringing
Alarm clock analog - run down
Alarm clock analog - ticking
Alarm clock analog - winding
Alarm clock electronic - beeping
Aluminum can crush 01
Aluminum can crush 02
Aluminum foil crumble 01
Aluminum foil crumble 02
Aluminum foil cut 01
Aluminum foil cut 02
Aluminum foil rustle
Aluminum foil unwrap
Aluminum foil wrap
Ambulance and fire truck
Antique car approaching slow
Antique car departing
Antique car idle and rev
Antique car idling 01
Antique car idling 02
Antique car reversing
Antique tube radio being tuned 01
Antique tube radio being tuned 02
Antique tube radio button
Antique tube radio frequency buttons
Antique tube radio pressing buttons
Antique tube radio static 01
Antique tube radio static 02
Antique tube radio static interference 01
Antique tube radio static interference 02
Antique tube radio static - steady
Antique tube radio turn off
Antique tube radio turn on
Applause 01
Applause 02
ATV quad bike pass-by
ATV quad bikes pass-by fast
Baby amused
Baby babble
Baby cooing 01
Baby cooing 02
Baby cooing 03
Baby coughing
Baby crying 01
Baby crying 02
Baby crying 03
Baby crying 04
Baby crying 05
Baby crying 06
Baby crying 07
Baby laughing 01
Baby laughing 02
Baby laughing 03
Baby: "Mmm"
Baby panting
Baby rattle 01
Baby rattle 02
Baby rattle 03
Baby rattle 04
Baby screaming 01
Baby screaming 02
Baby screaming 03
Baby squeaky toy 01
Baby squeaky toy 02
Baby squeaky toy 03
Baby toy bell 01
Baby toy bell 02
Baby toy ratcheting - long
Baby toy ratcheting - long slow
Baby toy ratcheting - short
Baby toy ratcheting - short fast
Baby toy ratcheting - short slow
Baby toy rustle
Baby whining 01
Baby whining 02
Baby whining 03
Bag zipper 01
Bag zipper 02
Bag zipper 03
Bag zipper 04
Bag zipper 05
Balloon blow up 01
Balloon blow up 02
Balloon deflating 01
Balloon deflating 02
Balloon deflating 03
Balloon deflating 04
Balloon twist squeaks 01
Balloon twist squeaks 02
Balloon twist squeaks 03
Bandsaw cutting wood 01
Bandsaw cutting wood 02
Bandsaw cutting wood 03
Bank lobby ambience 01
Bank lobby ambience 02
Bar ambience
Barn door slide close
Barn door slide open
Bass drum 01
Bass drum 02
Bathroom faucet
Beach sea waves
Beep 01
Beep 02
Beep 03
Beep 04
Beep 05
Beep 06
Beep 07
Beep long 01
Beep long 02
Beep long 03
Beep long 04
Beep low freq long 01
Beep low freq long 02
Beep low freq long 03
Beep low freq long 04
Beep low freq long 05
Beep low freq long 06
Beep low freq short 01
Beep low freq short 02
Beep low freq short 03
Beep short 01
Beep short 02
Beep short 03
Beep short 04
Beep short 05
Beep short 06
Beep short 07
Beep short 08
Beep short 09
Beep short 10
Beep short 11
Beep short 12
Beep short 13
Beep short 14
Beep short 16
Beep short double 01
Beep short double 02
Beep short double 03
Beep short double 04
Beep short double 05
Beep short double 06
Beep short double 07
Beep short double 08
Beep short multiple 01
Beep short multiple 02
Beep short multiple 03
Beep short multiple 04
Beep short multiple 05
Beep short multiple 06
Beep short multiple 07
Beep short multiple 08
Beep short multiple 09
Beep short multiple 10
Beep short multiple 11
Beep short multiple 12
Beep short multiple 13
Beep short multiple 14
Beer bottle open 01
Beer bottle open 02
Beer bottle open 03
Beer bottle open 04
Beer can crush
Beer can drop 01
Beer can drop 02
Beer can open 01
Beer can open 02
Beer can open 03
Beer can open 04
Beer can set down
Beer pour glass 01
Beer pour glass 02
Beer pour glass 03
Bees buzzing
Bell 01
Bell 02
Bell ring 01
Bell ring 02
Belt buckle 01
Belt buckle 02
Belt buckle 03
Belt buckle 04
Beverage can open 01
Beverage can open 02
Beverage can open 03
Bicycle bell ring
Bicycle bell ring classic 01
Bicycle bell ring classic 02
Bicycle kickstand down
Bicycle kickstand up
Bicycle mini bell ring
Bicycle pass-by
Bicycle pedal brake
Bicycle pump
Bicycle pump squeaky
Big hall ambience
Biplane fly-by
Biplane flying 01
Biplane flying 02
Biplane idle
Biplane pass-by on runway 01
Biplane pass-by on runway 02
Biplane starting to move 01
Biplane starting to move 02
Bird blue throated macaw 01
Bird blue throated macaw 02
Bird chestnut mandibled toucan 01
Bird chestnut mandibled toucan 02
Bird monk parakeet 01
Bird monk parakeet 02
Bird monk parakeet 03
Bird singing
Birds chirping 01
Birds chirping 02
Birds chirping 03
Bite 01
Bite 02
Blow torch gas burning 01
Blow torch gas burning 02
Blowing nose 01
Blowing nose 02
Bomb fuse burning 01
Bomb fuse burning 02
Bomb fuse burning 03
Bone crack
Bongos 01
Bongos 02
Bongos 03
Bongos 04
Book cover close
Bottle cap drop 01
Bottle cap drop 02
Bottle cap set down
Bottle cap spin
Bottle cap twist close
Bottle cap twist open
Bottle - pouring water down a drain
Bottle - pouring water into sink
Bow arrow hit wood
Bow arrow hit wood and boing
Bow arrow swoosh by
Branch cracking forest path
Branch cracking thin
Branch cracking tree
Breaking ice 01
Breaking ice 02
Breaking ice 03
Briefcase latch close
Briefcase latch open
Brook 01
Brook 02
Broom sweeping 01
Broom sweeping 02
Broom sweeping 03
Brushcutter 01
Brushcutter 02
Brushing teeth 01
Brushing teeth 02
Bulb horn 01
Bulb horn 02
Burp 01
Burp 02
Burp 03
Burp 04
Bus door open
Bus interior ambience
Bus pass-by 01
Bus pass-by 02
Bus turn signal
Business building lobby ambience 01
Business building lobby ambience 02
Cabinet door close 01
Cabinet door close 02
Cabinet door close 03
Cabinet door close 04
Cabinet door close 05
Cabinet door close 06
Cabinet door close 07
Cabinet door close 08
Cabinet door close 09
Cabinet door close 10
Cabinet door close 11
Cabinet door close 12
Cabinet door close 13
Cabinet door close 14
Cabinet door open 01
Cabinet door open 02
Cabinet door open 03
Cabinet door open 04
Cabinet door open 05
Cabinet door open 06
Cable car pass-by 01
Cable car pass-by 02
Cable car pass-by 03
Cable car pass-by with bell ring 01
Cable car pass-by with bell ring 02
Cable car ride on board
Cafeteria ambience
Camcorder battery insert
Camcorder battery remove
Camcorder door close
Camcorder door open
Camcorder rewind
Camcorder tape eject
Camcorder tape insert 01
Camcorder tape insert 02
Camcorder tape remove 01
Camcorder tape remove 02
Camcorder tape set down 01
Camcorder tape set down 02
Camera focus beep
Camera focus motor 01
Camera focus motor 02
Camera focus motor 03
Camera rapid wind lever
Camera shutter - take picture 01
Camera shutter - take picture 02
Camera shutter - take picture 03
Campfire
Candy bag rustle 01
Candy bag rustle 02
Candy bag rustle 03
Candy box open
Candy box set down
Candy box shake 01
Candy box shake 02
Candy box tilt
Candy fall drop
Candy pour 01
Candy pour 02
Candy wrapper crinkle
Car alarm
Car arrive and shut off snow
Car attempting to start 01
Car attempting to start 02
Car attempting to start 03
Car attempting to start 04
Car beeping - warning 01
Car beeping - warning 02
Car central lock 01
Car central lock 02
Car cigarette lighter 01
Car cigarette lighter 02
Car door close 01
Car door close 02
Car door close 03
Car door close 04
Car door close 05
Car door close 06
Car door close 07
Car door getting in snow
Car door handle
Car door key insert
Car door key remove
Car door open 01
Car door open 02
Car door open 03
Car door warning beep
Car drive-by fast
Car driving in snow slow
Car driving off fast
Car fuel filler flap close
Car fuel filler flap open
Car gasoline cap twist close
Car gasoline cap twist open
Car glove compartment close
Car glove compartment open
Car handbrake 01
Car handbrake 02
Car honk 01
Car honk 02
Car honk 03
Car hood close
Car hood release pop
Car idle and shut off
Car ignition and departure
Car ignition key insert
Car ignition key remove
Car interior ambience 01
Car interior ambience 02
Car interior ambience - rain
Car locked honk
Car pass-by 01
Car pass-by 02
Car pass-by 03
Car pass-by 04
Car pass-by in snow
Car pass-by wet road 01
Car pass-by wet road 02
Car power window close
Car power window open
Car reverse and shut off snow
Car reversing in snow
Car revving
Car side mirror adjust motor 01
Car side mirror adjust motor 02
Car side mirror adjust motor 03
Car speeds up
Car start and drive away snow 01
Car start and drive away snow 02
Car start and idle
Car start and reverse away snow
Car starting 01
Car starting 02
Car stick shift movement
Car trunk close 01
Car trunk close 02
Car trunk open
Car trunk unlock
Car turn signal
Car turning in snow
Car windshield wipers wiping
Card lock - card swipe 01
Card lock - card swipe 02
Cars drive-by 01
Cars drive-by 02
Cars drive-by wet road 01
Cars drive-by wet road 02
Cartoon sounds - bang 01
Cartoon sounds - bang 02
Cartoon sounds - bang 03
Cartoon sounds - bang 04
Cartoon sounds - bang 05
Cartoon sounds - bell
Cartoon sounds - bite
Cartoon sounds - boing 01
Cartoon sounds - boing 02
Cartoon sounds - boing 03
Cartoon sounds - boing 04
Cartoon sounds - bong
Cartoon sounds - bong spring
Cartoon sounds - bounce 01
Cartoon sounds - bounce 02
Cartoon sounds - bubbles 01
Cartoon sounds - bubbles 02
Cartoon sounds - bubbles 03
Cartoon sounds - car honk 01
Cartoon sounds - car honk 02
Cartoon sounds - car honk 03
Cartoon sounds - chime 01
Cartoon sounds - cranking 01
Cartoon sounds - cranking 02
Cartoon sounds - cruching 01
Cartoon sounds - cruching 02
Cartoon sounds - crumble 01
Cartoon sounds - crumble 02
Cartoon sounds - ding 01
Cartoon sounds - ding 02
Cartoon sounds - doorbell
Cartoon sounds - falling 01
Cartoon sounds - falling 02
Cartoon sounds - gliss 01
Cartoon sounds - gliss 02
Cartoon sounds - hit
Cartoon sounds - jumps fast
Cartoon sounds - movement sweep
Cartoon sounds - piano gliss down
Cartoon sounds - piano gliss up
Cartoon sounds - piano hit 01
Cartoon sounds - piano hit 02
Cartoon sounds - piano hit 03
Cartoon sounds - piano hit 04
Cartoon sounds - ping 01
Cartoon sounds - ping 02
Cartoon sounds - ping 03
Cartoon sounds - police whistle 01
Cartoon sounds - police whistle 02
Cartoon sounds - pop
Cartoon sounds - pops
Cartoon sounds - quick movement
Cartoon sounds - slide whistle down
Cartoon sounds - slide whistle down fast
Cartoon sounds - slide whistle down slow
Cartoon sounds - slide whistle misc 01
Cartoon sounds - slide whistle misc 02
Cartoon sounds - slide whistle pop up
Cartoon sounds - slide whistle up
Cartoon sounds - slide whistle up & down
Cartoon sounds - slide whistle up & down
Cartoon sounds - slide whistle up fast
Cartoon sounds - slide whistle up slow
Cartoon sounds - slurp 01
Cartoon sounds - slurp 02
Cartoon sounds - slurp 03
Cartoon sounds - slurp 04
Cartoon sounds - slurp 05
Cartoon sounds - snoring
Cartoon sounds - spin
Cartoon sounds - spring boing 01
Cartoon sounds - spring boing 02
Cartoon sounds - spring boing 03
Cartoon sounds - spring boing 04
Cartoon sounds - spring boing 05
Cartoon sounds - spring boing 06
Cartoon sounds - squeak
Cartoon sounds - squeak wood
Cartoon sounds - squeaks
Cartoon sounds - squeaky horn
Cartoon sounds - tietop fast 01
Cartoon sounds - tietop fast 02
Cartoon sounds - tietop fast 03
Cartoon sounds - tietop fast 04
Cartoon sounds - tietop slow 01
Cartoon sounds - tietop slow 02
Cartoon sounds - timpani glide 01
Cartoon sounds - timpani glide 02
Cartoon sounds - whip
Cartoon sounds - whirl 01
Cartoon sounds - whirl 02
Cartoon sounds - whirl 03
Cartoon sounds - whirl 04
Cartoon sounds - whirl 05
Cartoon sounds - whoopie whistle 01
Cartoon sounds - whoopie whistle 02
Cartoon sounds - whoopie whistle 03
Cartoon sounds - whoopie whistle 04
Cartoon sounds - whoopie whistle 05
Cartoon sounds - whoosh 01
Cartoon sounds - whoosh 02
Cartoon sounds - whoosh 03
Cartoon sounds - xylophone ascend fast
Cartoon sounds - xylophone ascend fast
Cartoon sounds - xylophone ascend slow
Cartoon sounds - xylophone ascend slow
Cartoon sounds - xylophone descend fast
Cartoon sounds - xylophone descend fast
Cartoon sounds - xylophone descend slow
Cartoon sounds - xylophone descend slow
Cartoon sounds - xylophone gliss down 01
Cartoon sounds - xylophone gliss down 02
Cartoon sounds - xylophone gliss down 03
Cartoon sounds - xylophone gliss up 01
Cartoon sounds - xylophone gliss up 02
Cartoon sounds - xylophone gliss up 03
Cartoon sounds - zip 01
Cartoon sounds - zip 02
Cartoon sounds - zip 03
Cassette case close
Cassette case open
Cassette player button 01
Cassette player button 02
Cassette player button 03
Cassette player close
Cassette player tape eject
Cassette player tape insert
Cassette player tape insert and close
Cassette player tape remove
Caution car coming warning buzzer
Cell phone close
Cell phone dial nr0
Cell phone dial nr1
Cell phone dial nr2
Cell phone dial nr3
Cell phone dial nr4
Cell phone dial nr5
Cell phone dial nr6
Cell phone dial nr7
Cell phone dial nr8
Cell phone dial nr9
Cell phone vibration
Censor beep 01
Censor beep 02
Censor beep 03
Censor beep 04
Censor beep 05
Censor beep 06
Censor beep 07
Censor beep 08
Censor beep 09
Censor beep 10
Ceramic jar close 01
Ceramic jar close 02
Ceramic jar close 03
Ceramic jar open 01
Ceramic jar open 02
Chainsaw 01
Chainsaw 02
Chainsaw 03
Chainsaw 04
Chainsaw 05
Chainsaw 06
Chainsaw starter rope pulls
Chair scraping floor 01
Chair scraping floor 02
Chair scraping floor 03
Chair scraping floor 04
Chair scraping floor 05
Chair scraping floor 06
Chair scraping floor 07
Champagne cork pop 01
Champagne cork pop 02
Champagne cork pop 03
Champagne cork pop 04
Champagne glass clink 01
Champagne glass clink 02
Champagne pop pour
Champagne pour
Champagne set down
Chinese temple gong 01
Chinese temple gong 02
Chinese temple gong 03
Chinese temple gong 04
Chinese temple gong 05
Christmas handbell
Christmas handbells
Church bell 01
Church bell 02
Church bell chiming twice
Church bell tolling
City ambience 01
City ambience 02
City rooftop ambience
Clearing throat 01
Clearing throat 02
Clearing throat 03
Clock chiming 01
Clock chiming 02
Clock small ticking 01
Clock small ticking 02
Clock ticking fast
Clock tolling 01
Clock tolling 02
Closet door close 01
Closet door close 02
Closet door close 03
Closet door close 04
Closet door close 05
Closet door close 06
Closet door open 01
Closet door open 02
Closet door open 03
Closet door open 04
Closet door open 05
Closet door open 06
Cloth roll towel 01
Cloth roll towel 02
Cloth rustle 01
Cloth rustle 02
Coffee beans pour 01
Coffee beans pour 02
Coffee cup set down 01
Coffee cup set down 02
Coffee grinder 01
Coffee grinder 02
Coffee grinder 03
Coffee grinder 04
Coffee grinder 05
Coffee maker brewing 01
Coffee maker brewing 02
Coffee maker switch 01
Coffee maker switch 02
Coffee maker switch 03
Coffee maker switch 04
Coffee pot pick up
Coffee pot set down
Coffee shop ambience 01
Coffee shop ambience 02
Coffee spoon pick up
Coffee spoon set down 01
Coffee spoon set down 02
Coin bag emptying 01
Coin bag emptying 02
Coin bag filling
Coin bag pick up 01
Coin bag pick up 02
Coin bag set down 01
Coin bag set down 02
Coin drop
Coin spinning 01
Coin spinning 02
Coins collecting 01
Coins collecting 02
Coins collecting 03
Coins collecting 04
Coins collecting 05
Coins collecting 06
Coins drop 01
Coins drop 02
Coins drop 03
Coins drop 04
Coins drop 05
Coins drop 06
Coins drop 07
Coins emptying hand 01
Coins emptying hand 02
Coins emptying hand 03
Coins in hand 01
Coins in hand 02
Coins in hand 03
Coins pick up 01
Coins pick up 02
Coins pick up 03
Coins pick up 04
Coins pick up 05
Colored pencil coloring 01
Colored pencil coloring 02
Colored pencil coloring fast 01
Colored pencil coloring fast 02
Colored pencil coloring slow 01
Colored pencil coloring slow 02
Combine harvester operating
Comical sounds - ascend ding slide crash
Comical sounds - bang crash whistle
Comical sounds - bang toot descend
Comical sounds - bang toot glide
Comical sounds - boing 01
Comical sounds - boing 02
Comical sounds - boings
Comical sounds - bong whistle crash
Comical sounds - bong whistle ding
Comical sounds - comic bang
Comical sounds - comic whistle
Comical sounds - crash and whistle
Comical sounds - crash whistles toot
Comical sounds - crash with brass fall
Comical sounds - drum roll whistle crash
Comical sounds - falling bongs and boing
Comical sounds - fart toot flute
Comical sounds - fart toot slide descend
Comical sounds - flute
Comical sounds - mix
Comical sounds - rubber squeak 01
Comical sounds - rubber squeak 02
Comical sounds - rubber squeak 03
Comical sounds - slide and bang
Comical sounds - slide and boing
Comical sounds - slide and bongs
Comical sounds - slide and crash
Comical sounds - slide and cymbal
Comical sounds - slide crash and boing
Comical sounds - slide down and up 01
Comical sounds - slide down and up 02
Comical sounds - slide down crash boing
Comical sounds - slide up and down 01
Comical sounds - slide up and down 02
Comical sounds - slide up and down 03
Comical sounds - squeak and boing
Comical sounds - toot 01
Comical sounds - toot 02
Comical sounds - toot 03
Comical sounds - toot boing whistle
Comical sounds - whistle and boing
Comical sounds - whistle bang crash
Comical sounds - whistle crash boing
Comical sounds - whistle toot bong crash
Communications overload 01
Communications overload 02
Computer flatbed scanner 01
Computer flatbed scanner 02
Computer keyboard - typing 01
Computer keyboard - typing 02
Computer mouse click 01
Computer mouse click 02
Computers processing data 01
Computers processing data 02
Congas 01
Congas 02
Congas 03
Congas 04
Congas 05
Congas 06
Construction elevator coming down
Construction elevator going up
Conveyor belt
Conveyor belt stopping
Cork squeak 01
Cork squeak 02
Cork squeak 03
Cork squeak 04
Cork squeak 05
Cosmetic jar close
Cosmetic jar open
Coughing 01
Coughing 02
Cow bell ring 01
Cow bell ring 02
Crane operating
Crow cawing 01
Crow cawing 02
Crow cawing 03
Crow cawing 04
Crow cawing 05
Crowd chatter 01
Crowd chatter 02
Crowd cheering outside
Crumbling paper 01
Crumbling paper 02
Crumbling paper 03
Curtain open and close
Curtain slide pull 01
Curtain slide pull 02
Curtain slide pull 03
Curtain slide pull 04
Dart toss hit dartboard 01
Dart toss hit dartboard 02
Dart toss hit dartboard 03
Dart toss hit dartboard 04
Dart toss hit dartboard metal wire 01
Dart toss hit dartboard metal wire 02
Darts being plucked
Dentist drill 01
Dentist drill 02
Deodorant can open
Deodorant spray 01
Deodorant spray 02
Desk call bell 01
Desk call bell 02
Desk call bell 03
Desk drawer close 01
Desk drawer close 02
Desk drawer open 01
Desk drawer open 02
Dirt bike race
Dirt bike racing 01
Dirt bike racing 02
Dirt bike racing 03
Dirt bike racing 04
Dirt bike racing 05
Dirt bike racing 06
Dirt bike racing 07
Dirt bike racing 08
Dirt bike rev
Dirt bikes racing 01
Dirt bikes racing 02
Dirt bikes racing 03
Dirt bikes racing 04
Dirt bikes racing 05
Dirt go-kart drive-by 01
Dirt go-kart drive-by 02
Dirt go-kart drive-by 03
Dirt go-kart drive-by 04
Dirt go-kart drive-by 05
Dirt go-kart drive-by 06
Dishwasher
Dj scratch 01
Dj scratch 02
Dj scratch 03
Dj scratch 04
Dj scratch 05
Dog barking 01
Dog barking 02
Dog barking 03
Dog panting
Dog whining 01
Dog whining 02
Dogs whining and barking
Dollar bill pull
Dollar bill remove
Dollar bills organize
Dollar bills pick up 01
Dollar bills pick up 02
Door close 01
Door close 02
Door close 03
Door close 04
Door close 05
Door close 06
Door close 07
Door close 08
Door close 09
Door close 10
Door close 11a
Door close 11b
Door close 14
Door close 15
Door close 16
Door close 17
Door close 18
Door close 19
Door close 21
Door close 22
Door close 23
Door close 24
Door close 25
Door close 26
Door creak 01
Door creak 02
Door hook
Door knock 01
Door knock 02
Door knock 03
Door knock 04
Door knock 05
Door knock 06
Door knock 07
Door knock 08
Door lock 01
Door lock 02
Door lock 03
Door lock 04
Door lock 05
Door lock key 01
Door lock key 02
Door lock key 03
Door lock key 04
Door locking
Door open 01
Door open 02
Door open 03
Door open 05
Door open 09
Door open 10
Door open 11
Door open 12
Door open 13
Door open 14
Door open 16
Door open 18
Door open 19
Door open 20
Door open 21
Door open 22
Door open 23
Door open 24
Door open with squeak 01
Door open with squeak 02
Door security latch 01
Door security latch 02
Door security latch 03
Door security latch 04
Door squeak 01
Door squeak 02
Door squeak 03
Door squeak 04
Door squeak 05
Door squeak 06
Door squeak 07
Door squeak 08
Door squeak 09
Door squeak 10
Door wooden sliding
Doorbell ding-dong 01
Doorbell ding-dong 02
Doorbell ringing 01
Doorbell ringing 02
Dramatic drum 01
Dramatic drum 02
Dramatic drum 03
Dramatic drum 04
Dramatic drum 05
Dramatic drum 06
Dream harp 01
Dream harp 02
Dream harp 03
Dream harp 04
Dream harp 05
Dream harp 06
Dream harp 07
Dream harp 08
Dream harp 09
Dresser drawer close 01
Dresser drawer close 02
Dresser drawer close 03
Dresser drawer close 04
Dresser drawer close 05
Dresser drawer close 06
Dresser drawer close 07
Dresser drawer close 08
Dresser drawer open 01
Dresser drawer open 02
Dresser drawer open 03
Dresser drawer open 04
Dresser drawer open 05
Dresser drawer open 06
Dresser drawer open 07
Dresser drawer open 08
Drill hand held 01
Drill hand held 02
Drill hand held 03
Drill hand held 04
Drink: "Ahhh"
Drum roll 01
Drum roll 02
Drum roll 03
Drum roll 04
Egg breaking and frying
Electric drill 01
Electric drill 02
Electric hand mixer off
Electric hand mixer start and operating
Electric shaver
Electric stapler
Electric toothbrush 01
Electric toothbrush 02
Electric toothbrush - steady
Electric typewriter 01
Electric typewriter 02
Electric typewriter 03
Electrical buzz 01
Electrical buzz 02
Electrical pulse
Elevator bell ding 01
Elevator bell ding 02
Elevator bell ding - door open
Elevator ding-dong
Elevator ding-dong - door open
Elevator door close 01
Elevator door close 02
Elevator door close 03
Elevator door open 01
Elevator door open 02
Elevator door open and close
Elevator door open with bell
Elevator door slam shut
Elevator interior ambience 01
Elevator interior ambience 02
Elevator interior ambience 03
Elevator interior ambience 04
Elevator interior ambience 05
Error buzzer 01
Error buzzer 02
Escalator ride 01
Escalator ride 02
Excavator drive-by
Explosion 01
Explosion 02
Explosion 03
Explosion 04
Explosion 05
Explosion 06
Explosion 07
Explosion 08
F-16 fighting falcon fly-by
Fail trombone 01
Fail trombone 02
Fail trombone 03
Fail trumpet
Fall and bang 01
Fall and bang 02
Fall and crash
Falling down and water splash
Falling whistle 01
Falling whistle 02
Falling whistle 03
Falling whistle 04
Falling whistle 05
Falling whistle 06
Falling whistle 07
Falling whistle 08
Fan blowing
Fan off
Fan start
Fart 01
Fart 02
Fart 03
Fast food restaurant ambience
Faucet leaking 01
Faucet leaking 02
Fax beep
Fax data tone
Fax machine
Fax paper feed 01
Fax paper feed 02
Fax paper feed 03
Filling bucket
Fingers rubbing rubber surface 01
Fingers rubbing rubber surface 02
Fingers rubbing rubber surface 03
Fire 01
Fire 02
Fire crackling 01
Fire crackling 02
Fire crackling 03
Fire rumble
Fire torch whoosh 01
Fire torch whoosh 02
Fire torch whoosh 03
Fire truck 01
Fire truck 02
Fire truck 03
Firecrackers 01
Firecrackers 02
Firecrackers 03
Firecrackers 04
Fireplace 01
Fireplace 02
Fireplace 03
Fireplace 04
Firewood logs 01
Firewood logs 02
Firework butterfly
Firework explosion 01
Firework explosion 02
Firework explosion 03
Firework explosion 04
Firework explosion 05
Firework hissing 01
Firework hissing 02
Firework rocket launch 01
Firework rocket launch 02
Firework rocket launch 03
Firework spinning 01
Firework spinning 02
Fireworks 01
Fireworks 02
Fireworks 03
Fireworks 04
Fireworks 05
Fireworks display
Fireworks whistle 01
Fireworks whistle 02
Fireworks whistle 03
Fireworks whistle 04
Fishing pole reel 01
Fishing pole reel 02
Fishing pole reel 03
Fishing pole reel 04
Fishing pole reel 05
Fishing pole reel 06
Fishing pole reel - fast
Fishing pole reel - long 01
Fishing pole reel - long 02
Fishing pole reel - short 01
Fishing pole reel - short 02
Fishing pole reel - slow 01
Fishing pole reel - slow 02
Fishing pole whoosh 01
Fishing pole whoosh 02
Fishing pole whoosh soft
Flipping stack bills 01
Flipping stack bills 02
Flipping stack bills 03
Flipping stack bills 04
Floor squeak 01
Floor squeak 02
Floor squeak 03
Floor squeak 04
Floor squeak 05
Floor squeak 06
Floor squeak 07
Floor squeak 08
Floor squeak 09
Floor squeak 10
Fly buzzing 01
Fly buzzing 02
Fly buzzing 03
Fly buzzing 04
Fly buzzing 05
Folding door close
Folding door open
Food court ambience
Food processor blender 01
Food processor blender 02
Food processor blender 03
Footsteps cellar stairs
Footsteps high heels
Footsteps hotel hallway
Footsteps icy snowy stairs
Footsteps in deep water
Footsteps in water - fast
Footsteps in water - slow
Footsteps on gravel 01
Footsteps on gravel 02
Footsteps on icy ground
Footsteps on rug 01
Footsteps on rug 02
Footsteps on walkway
Footsteps snow 01
Footsteps snow 02
Footsteps snow 03
Footsteps snow 04
Footsteps snow pass-by
Footsteps watery road
Footsteps wet snow
Footsteps wooden floor 01
Footsteps wooden floor 02
Footsteps wooden stairs 01
Footsteps wooden stairs 02
Footsteps wooden stairs down 01
Footsteps wooden stairs down 02
Footsteps wooden stairs down 03
Footsteps wooden stairs down 04
Footsteps wooden stairs up 01
Footsteps wooden stairs up 02
Footsteps wooden stairs up 03
Footsteps wooden stairs up 04
Forest ambience 01
Forest ambience 02
Forklift reversing beeps
Fridge door close 01
Fridge door close 02
Fridge door close 03
Fridge door close 04
Fridge door open 01
Fridge door open 02
Fridge door open 03
Fridge door open 04
Frying pan cooking
Frying pan sizzling
Frying sizzle 01
Frying sizzle 02
Furnace door close
Furnace door open
Furnace operating
Garage door close 01
Garage door close 02
Garage door open 01
Garage door open 02
Garbage can fall over
Garbage can lid close
Garbage can rattle
Garbage can roll
Garbage disposal 01
Garbage disposal 02
Gas stove
Gasoline canister cap close
Gasoline canister cap open
Gasoline canister emptying 01
Gasoline canister emptying 02
Ghost laugh 01
Ghost laugh 02
Ghost laugh 03
Glass bottles clink
Glass breaking 01
Glass breaking 02
Glass cork close 01
Glass cork close 02
Glass cork close 03
Glass cork open 01
Glass cork open 02
Glass cup set down 01
Glass cup set down 02
Glass cup set down 03
Glass cup slide
Glass debris drop shovel 01
Glass debris drop shovel 02
Glass debris sweep up 01
Glass debris sweep up 02
Glass debris sweep up 03
Glass debris sweep up shovel 01
Glass debris sweep up shovel 02
Glass door close 01
Glass door close 02
Glass door open 01
Glass door open 02
Glass jar lid close 01
Glass jar lid close 02
Glass jar lid close 03
Glass jar lid close 04
Glass jar lid close 05
Glass jar lid open 01
Glass jar lid open 02
Glass jar lid open 03
Glass jar lid open 04
Glass jar lid open 05
Go-kart drive-by 01
Go-kart drive-by 02
Go-kart drive-by 03
Go-kart drive-by skidding 01
Go-kart drive-by skidding 02
Go-kart drive-by skidding 03
Go-kart drive-by slow 01
Go-kart drive-by slow 02
Go-kart drive-by slow 03
Go-karts drive-by skidding
Go-karts drive-by slow
Go-karts racing 01
Go-karts racing 02
Go-karts racing 03
Golf ball hit
Gun cock 01
Gun cock 02
Gun cock 03
Gun empty shell 01
Gun empty shell 02
Gun empty shell 03
Gun empty shell 04
Gun empty shell 05
Gun empty shell 06
Gun empty shell 07
Gun empty shell 08
Gun empty shell 09
Gun empty shell 10
Gun gunshot 01
Gun gunshot 02
Gun gunshot 03
Gun trigger
Gun two shots 01
Gun two shots 02
Gun two shots 03
Hair blow dryer 01
Hair blow dryer 02
Hair blow dryer 03
Hair blow dryer 04
Hair mousse 01
Hair mousse 02
Hair mousse shake
Hair spray 01
Hair spray 02
Hair spray 03
Hair spray 04
Hammering 01
Hammering 02
Hammering 03
Hammering 04
Hand clap 01
Hand clap 02
Hand dryer electric
Hand vacuum
Harley pass-by 01
Harley pass-by 02
Heartbeat 01
Heartbeat 02
Heartbeat 03
Heartbeat 04
Heartbeat 05
Heartbeat speeding up 01
Heartbeat speeding up 02
Heavy panting 01
Heavy panting 02
Hedge trimmer
Helicopter - fly-by
Helicopter - fly over
Helicopter - flying
Helicopter - flying interior ambience 01
Helicopter - flying interior ambience 02
Helicopter - four bladed - fly-by
Helicopter - four bladed - fly over 01
Helicopter - four bladed - fly over 02
Helicopter - four bladed - landing
Helicopter - heavy lift - fly over
Helicopter - hovering
Helicopter - preparing for take-off 01
Helicopter - preparing for take-off 02
Helicopter - starting exterior 01
Helicopter - starting exterior 02
Helicopter - starting interior
Helicopter - two bladed - fly over 01
Helicopter - two bladed - fly over 02
Helicopter - two bladed - landing
Helicopter - two bladed - on ground
Highway traffic 01
Highway traffic 02
Hole punch 01
Hole punch 02
Hole punch 03
House oil heater
Hurricane 01
Hurricane 02
Ice block drop 01
Ice block drop 02
Ice collecting
Ice cracking 01
Ice cracking 02
Ice crunching
Ice cube drop 01
Ice cube drop 02
Ice cube drop 03
Ice cube drop 04
Ice cube drop 05
Ice cube stir 01
Ice cube stir 02
Ice cube stir 03
Ice cube stir 04
Ice cubes clink 01
Ice cubes clink 02
Ice cubes clink 03
Ice hit ground
Ice machine dispensing ice 01
Ice machine dispensing ice 02
Ice machine dispensing ice 03
Ice water pour 01
Ice water pour 02
Impact drum roll
Ink pen writing
Jacket zipper 01
Jacket zipper 02
Jacket zipper 03
Jacket zipper 04
Jacket zipper 05
Jacket zipper 06
Jackhammer
Jacuzzi ambience
Jar drop
Jar lid close
Jar lid open
Jeans zipper 01
Jeans zipper 02
Jeans zipper 03
Jet interior ambience
Kart racing 01
Kart racing 02
Kart racing 03
Keys jingle 01
Keys jingle 02
Keys jingle 03
Keys pick up
Kids playground 01
Kids playground 02
Kiss 01
Kiss 02
Kiss 03
Kitchen drawer close 01
Kitchen drawer close 02
Kitchen drawer close 03
Kitchen drawer close 04
Kitchen drawer close 05
Kitchen drawer close 06
Kitchen drawer open 01
Kitchen drawer open 02
Kitchen drawer open 03
Kitchen drawer open 04
Kitchen drawer open 05
Kitchen drawer open 06
Kitchen oven door close 01
Kitchen oven door close 02
Kitchen oven door open 01
Kitchen oven door open 02
Kitchen pot lid close 01
Kitchen pot lid close 02
Kitchen pot lid close 03
Kitchen pot lid open 01
Kitchen pot lid open 02
Kitchen pot set down 01
Kitchen pot set down 02
Lake waves lapping - gentle - beach
Lake waves lapping - gentle - rocks
Lake waves lapping - large - beach
Lake waves lapping - shore 01
Lake waves lapping - shore 02
Laptop keyboard typing 01
Laptop keyboard typing 02
Large hall ambience 01
Large hall ambience 02
Large lobby ambience
Laser beam 01
Laser beam 02
Laser beam 03
Laser beam 04
Laser beam 05
Laser beam hit 01
Laser beam hit 02
Laser beam hit 03
Laser beam hit 04
Laser beam hit 05
Laser glow halo 01
Laser glow halo 02
Laser glow halo 03
Laser gun shot 01
Laser gun shot 02
Laser gun shot 03
Laser gun shot 04
Laser gun shot 05
Laser printer 01
Laser printer 02
Laser printer 03
Laser scan 01
Laser scan 02
Laser scan 03
Laser scan 04
Laser scan 05

Laser sword hit 01
Laser sword hit 02
Laser sword hit 03
Laser sword hit 04
Laser sword hit 05
Laughing 01
Laughing 02
Laughing evil
Lawn mower 01
Lawn mower 02
Leaf rake 01
Leaf rake 02
Leaf rake drop
Leafing cards 01
Leafing cards 02
Leafing cards 03
Leafing cards 04
Leafing cards 05
Lid drop
Light aircraft fly-by
Light aircraft fly over 01
Light aircraft fly over 02
Light aircraft lift-off
Light beam hit 01
Light beam hit 02
Light beam hit 03
Light beam hit 04
Light beam hit 05
Light beam hit 06
Light beam rebounding 01
Light beam rebounding 02
Light beam rebounding 03
Light bulb break 01
Light bulb break 02
Light bulb screw in
Light bulb unscrew
Light rail train pass-by
Light switch 01
Light switch 02
Light switch 03
Light switch 04
Logo impact bang
Machine
Machine gun 01
Machine gun 02
Machine gun 03
Machine gun 04
Machine gun 05
Machine gun 06
Machine gun 07
Machine gun 08
Machine gun 09
Machine gun 10
Machine gun 11
Machine gun empty shell 01
Machine gun empty shell 02
Machine gun empty shell 03
Machine gun empty shell 04
Machine gun empty shell 05
Machine gun empty shell 06
Machine gun empty shell 07
Machine gun empty shell 08
Machine gun empty shell 09
Machine gun empty shell 10
Magic chime 01
Magic chime 02
Magic chime 03
Magic chime 04
Magic chime 05
Magic chime 06
Magic chime 07
Magic shine 01
Magic shine 02
Magical shimmer
Mall ambience
Mall food court
Mall restaurant 01
Mall restaurant 02
Man coughing 01
Man coughing 02
Man coughing with sniffle
Man crying 01
Man crying 02
Man giggling 01
Man giggling 02
Man laughing 01
Man laughing 02
Man laughing 03
Man laughing 04
Man scream 01
Man scream 02
Man scream 03
Man scream 04
Man scream 05
Man scream 06
Man scream 07
Man scream 08
Man scream - "ahh" 01
Man scream - "ahh" 02
Man scream - short
Man scream - short "ah" 01
Man scream - short "ah" 02
Man screaming 01
Man screaming 02
Man scretching
Man sighing 01
Man sighing 02
Man sighing 03
Man sneezing
Man sobbing 01
Man sobbing 02
Man straining 01
Man straining 02
Man straining 03
Man yawning 01
Man yawning 02
Mantle clock chiming 01
Mantle clock chiming 02
Mantle clock chiming 03
Mantle clock chiming 04
Mantle clock chiming 05
Mantle clock chiming 06
Mantle clock chiming 07
Mantle clock ticking 01
Mantle clock ticking 02
Mantle clock tolling 01
Mantle clock tolling 02
Mantle clock tolling 03
Mantle clock tolling 04
Mantle clock winding 01
Mantle clock winding 02
Mantle clock winding 03
Marimba alert 01
Marimba alert 02
Marker writing 01
Marker writing 02
Match strike
Medicine cabinet close
Medicine cabinet open
Metal angle grinder 01
Metal angle grinder 02
Metal bucket roll
Metal clang 01
Metal clang 02
Metal fence gate rattling
Metal gate close 01
Metal gate close 02
Metal squeak 01
Metal squeak 02
Metal squeak 03
Metal squeak 04
Metal switch
Metro air brakes 01
Metro air brakes 02
Metro depart - exterior
Metro moving slow - interior
Metro pull in - exterior
Metro ride interior - departing
Metro ride interior - stopping
Metro train crossing 01
Metro train crossing 02
Metro train depart - exterior
Metro train depart - interior
Metro train door close
Metro train pass-by 01
Metro train pass-by 02
Metro train pass-by 03
Microwave oven
Microwave oven bell
Military drum roll 01
Military drum roll 02
Military drum roll 03
Military helicopter fly over
Military helicopter flying interior
Military helicopter hovering 01
Military helicopter hovering 02
Mini-motocross bike pass-by 01
Mini-motocross bike pass-by 02
Mini-motocross bike pass-by 03
Mini-motocross bike pass-by 04
Mini-motocross bike rev
Mini-motocross race 01
Mini-motocross race 02
Mini-motocross race 03
Mini-motocross race 04
Mini motorbike drive-by 01
Mini motorbike drive-by 02
Mini motorbikes racing 01
Mini motorbikes racing 02
Mini motorbikes racing 03
Mini motorbikes racing 04
Mini motorbikes racing 05
Minibus pass-by
Money bills fall
Money bills rustle
Money counting bills 01
Money counting bills 02
Money counting bills 03
Money counting bills 04
Monitor screen knock 01
Monitor screen knock 02
Monitor screen knock 03
Monster growl 01
Monster growl 02
Monster growl 03
Monster growl 04
Monster growl 05
Monster snoring
Moped engine rev
Moped pass-by fast
Moped pass-by slow
Mosquito buzzing 01
Mosquito buzzing 02
Mosquito buzzing 03
Mosquito buzzing 04
Motorcross race 01
Motorcross race 02
Motorcross race 03
Motorcross race 04
Motorcross race 05
Motorcycle arrive
Motorcycle drive-by slow
Motorcycle pass-by 01
Motorcycle pass-by 02
Motorcycle pass-by 03
Motorcycle pass-by 04
Motorcycle pass-by 05
Motorcycle start and depart
Motorcycles drive-by very slow
Motorcycles pass-by 01
Motorcycles pass-by 02
Motorcycles pass-by 03
Motorscooter pass-by fast
Mountain brook 01
Mountain brook 02
Mountain stream
Mouse laughing 01
Mouse laughing 02
Mouthwash gargling 01
Mouthwash gargling 02
Mouthwash rinsing 01
Mouthwash rinsing 02
Multimedia alert 01
Multimedia alert 02
Multimedia alert 03
Multimedia alert 04
Multimedia alert 05
Multimedia alert 06
Multimedia alert 07
Multimedia alert 08
Multimedia alert 09
Multimedia button click 01
Multimedia button click 02
Multimedia button click 03
Multimedia button click 04
Multimedia button click 05
Multimedia button click 06
Multimedia button click 07
Multimedia button click 08
Multimedia button click 09
Multimedia button click 10
Multimedia button click 11
Multimedia button click 12
Multimedia button click 13
Multimedia button click 14
Multimedia button click 15
Multimedia button click 16
Multimedia button click 17
Multimedia button click 18
Multimedia button click 19
Multimedia button click 20
Multimedia button click 21
Multimedia button click 22
Multimedia button click 23
Multimedia button click 24
Multimedia button click 25
Multimedia button click 26
Multimedia button click 27
Multimedia button click 28
Multimedia button click 29
Multimedia button click 30
Multimedia button click 31
Multimedia button click 32
Multimedia button click 33
Multimedia button click 34
Multimedia button click 35
Multimedia button click 36
Multimedia button click 37
Multimedia button click 38
Multimedia button click 39
Multimedia button click 40
Multimedia button click 41
Multimedia button click 42
Multimedia button click 43
Multimedia button click 44
Multimedia button click 45
Multimedia button click 46
Multimedia button click 47
Multimedia button click 48
Multimedia button click 49
Multimedia button click 50
Multimedia button click 51
Multimedia button click 52
Multimedia button click 53
Multimedia button click 54
Multimedia button click 55
Multimedia button click 56
Multimedia button click 57
Multimedia button click 58
Multimedia button click 59
Multimedia button click 60
Multimedia button click 61
Multimedia button click 62
Multimedia button click 63
Multimedia button click 64
Multimedia button click 65
Multimedia button click 66
Multimedia button click 67
Multimedia button click 68
Multimedia button click 69
Multimedia button click 70
Multimedia button click 71
Multimedia button click 72
Multimedia button click 73
Multimedia button click 74
Multimedia button click 75
Multimedia button click 76
Multimedia button click 77
Multimedia button click 78
Multimedia button click 79
Multimedia button click 80
Multimedia button click 81
Multimedia button click 82
Multimedia button click 83
Multimedia button click 84
Multimedia button click 85
Multimedia button click 86
Multimedia button click 87
Multimedia button click 88
Multimedia button click 89
Multimedia button click 90
Multimedia button click 91
Multimedia button click 92
Multimedia button click 93
Multimedia button click 94
Multimedia button click 95
Multimedia button click 96
Multimedia button click 97
Multimedia button click 98
Multimedia button click 99
Multimedia button click 100
Multimedia button click 101
Multimedia button click 102
Multimedia button click 103
Multimedia button click 104
Multimedia button click 105
Multimedia button click 106
Multimedia button click 107
Multimedia button click 108
Multimedia button click 109
Multimedia button click 110
Multimedia button click 111
Multimedia button click 112
Multimedia button click 113
Multimedia button click 114
Multimedia button click 115
Multimedia button click 116
Multimedia button click 117
Multimedia button click 118
Multimedia button click 119
Multimedia button click 120
Multimedia button click 121
Multimedia button click 122
Multimedia button click 123
Multimedia button click 124
Multimedia button click 125
Multimedia button click 126
Multimedia button click 127
Multimedia button click 128
Multimedia button click 129
Multimedia button click 130
Multimedia button click 131
Multimedia button click 132
Multimedia button click 133
Multimedia button click 134
Multimedia button click 135
Multimedia button click 136
Multimedia button click 137
Multimedia button click 138
Multimedia button click 139
Multimedia button click 140
Multimedia button click 141
Multimedia button click 142
Multimedia button click 143
Multimedia button click 144
Multimedia button click 145
Multimedia button click 146
Multimedia button click 147
Multimedia button click 148
Multimedia button click 149
Multimedia button click 150
Multimedia button click 151
Multimedia button click 152
Multimedia button click 153
Multimedia button click 154
Multimedia button click 155
Multimedia button click 156
Multimedia button click 157
Multimedia button click 158
Multimedia button click 159
Multimedia button click 160
Multimedia button click 161
Multimedia button click 162
Multimedia button click 163
Multimedia button click 164
Multimedia button click 165
Multimedia button click 166
Multimedia button click 167
Multimedia button click 168
Multimedia button click 169
Multimedia button click 170
Multimedia button click 171
Multimedia button click 172
Multimedia button click 173
Multimedia button click 174
Multimedia button click 175
Multimedia button click 176
Multimedia button click 177
Multimedia button click 178
Multimedia button click 179
Multimedia button click 180
Multimedia button click 181
Multimedia button click 182
Multimedia button click 183
Multimedia button click 184
Multimedia button click 185
Multimedia button click 186
Multimedia button click 187
Multimedia button click 188
Multimedia button click 189
Multimedia button click 190
Multimedia button click 191
Multimedia button click 192
Multimedia button click 193
Multimedia button click 194
Multimedia button click 195
Multimedia button click 196
Multimedia button click 197
Multimedia button click 198
Multimedia button click 199
Multimedia button click 200
Multimedia button click 201
Multimedia button click 202
Multimedia button click 203
Multimedia button click 204
Multimedia button click 205
Multimedia button click 206
Multimedia button click 207
Multimedia button click 208
Multimedia button click 209
Multimedia button click 210
Multimedia button click 211
Multimedia button click 212
Multimedia button click 213
Multimedia button click 214
Multimedia button click 215
Multimedia button click 216
Multimedia button click 217
Multimedia button click 218
Multimedia button click 219
Multimedia button click 220
Multimedia button click 221
Multimedia button click 222
Multimedia button click 223
Multimedia button click 224
Multimedia button click 225
Multimedia button click 226
Multimedia button click 227
Multimedia button click 228
Multimedia button click 229
Multimedia button click 230
Multimedia button click 231
Multimedia button click 232
Multimedia button click 233
Multimedia button click 234
Multimedia button click 235
Multimedia button click 236
Multimedia button click 237
Multimedia button click 238
Multimedia button click 239
Multimedia button click 240
Multimedia button click 241
Multimedia button click 242
Multimedia button click 243
Multimedia button click 244
Multimedia button click 245
Multimedia button click 246
Multimedia button click 247
Multimedia button click 248
Multimedia button click 249
Multimedia button click 250
Multimedia button click 251
Multimedia button click 252
Multimedia button click 253
Multimedia button click 254
Multimedia button click 255
Multimedia button click 256
Multimedia button click 257
Multimedia button click 258
Multimedia button click 259
Multimedia button click 260
Multimedia button click 261
Multimedia button click 262
Multimedia button click 263
Multimedia button click 264
Multimedia button click 265
Multimedia button click 266
Multimedia button click 267
Multimedia button click 268
Multimedia button click 269
Multimedia button click 270
Multimedia button click 271
Multimedia button click 272
Multimedia button click 273
Multimedia button click 274
Multimedia button click 275
Multimedia button click 276
Multimedia button click 277
Multimedia button click 278
Multimedia button click 279
Multimedia button click 280
Multimedia button click 281
Multimedia button click 282
Multimedia button click 283
Multimedia button click 284
Multimedia button click 285
Multimedia button switch 01
Multimedia button switch 02
Multimedia button switch 03
Multimedia button switch 04
Multimedia button switch 05
Multimedia button switch 06
Multimedia button switch 07
Multimedia button switch 08
Multimedia button switch 09
Multimedia button switch 10
Multimedia button switch 11
Multimedia button switch 12
Multimedia button switch 13
Multimedia button switch 14
Multimedia button switch 15
Multimedia button switch 16
Multimedia button switch 17
Multimedia button switch 18
Multimedia button switch 19
Multimedia button switch 20
Multimedia button switch 21
Multimedia button switch 22
Multimedia button switch 23
Multimedia button switch 24
Museum lobby ambience 01
Museum lobby ambience 02
Neon light buzz
Object fly-by 01
Object fly-by 02
Object fly-by 03
Object fly-by 04
Object slide concrete
Ocean wave 01
Ocean wave 02
Ocean wave 03
Ocean wave 04
Ocean waves 01
Ocean waves 02
Outboard motor 01
Outboard motor 02
Outboard motor pull cord 01
Outboard motor pull cord 02
Packing tape 01
Packing tape 02
Packing tape 03
Packing tape 04
Packing tape 05
Page flip 01
Page flip 02
Page flip 03
Page flip 04
Page flip 05
Page flip 06
Page flip 07
Page flip 08
Page flip 09
Page flip 10
Page flip 11
Page flip 12
Page flip 13
Page flip 14
Page flip 15
Page flip 16
Page flip 17
Page flip 18
Page flip 19
Page flip 20
Paper bag rustle 01
Paper bag rustle 02
Paper ball toss
Paper rip out
Paper rustle 01
Paper rustle 02
Paper sheet pick up
Paper shredder
Paper tear rip 01
Paper tear rip 02
Paper tear rip 03
Paper tear rip 04
Paper tear rip 05
Paper tear rip 06
Paper tear rip 07
Paper tear rip 08
Paper tear rip 09
Paper tear rip 10
Paper tear rip 11
Paper tear rip 12
Paper tear rip 13
Paper tear rip 14
Paper tear rip 15
Paper tear rip 16
Paper tear rip 17
Paper tear rip 18
Paper tear rip 19
Paper tear rip 20
Park church bell toll
Park waterfall 01
Park waterfall 02
Parking garage ambience
Party blowout 01
Party blowout 02
Party blowout 03
Party blowout 04
Party blowout fail 01
Party blowout fail 02
Party blowout - long blow
Party blowout - short blow
Party noisemaker 01
Party noisemaker 02
Party noisemaker 03
Party noisemaker 04
Party noisemaker 05
Payphone coin insert 01
Payphone coin insert 02
Payphone coin insert 03
Payphone coin return 01
Payphone coin return 02
Payphone coin return 03
Pen click
Pen clicking
Pencil writing
People talking 01
People talking 02
People talking in lobby
Phone busy signal
Phone call disconnect beeps
Phone call disconnect tone
Phone calling tone
Phone line open beeps
Phone off hook alert
Phone receiver button
Phone receiver hang up 01
Phone receiver hang up 02
Phone receiver hang up 03a
Phone receiver hang up 03b
Phone receiver hang up 04
Phone receiver hang up 05
Phone receiver pick up 01
Phone receiver pick up 02
Phone receiver pick up 03
Phone receiver pick up 04
Phone receiver pick up 05
Phone ring
Phone ringing 01
Phone ringing 02
Pickup truck pass-by
Piggy bank coin drop 01
Piggy bank coin drop 02
Piggy bank coin drop 03
Piggy bank coin drop 04
Piggy bank coin drop 05
Piggy bank shake 01
Piggy bank shake 02
Piggy bank shake 03
Pill bottle set down
Pill bottle shake 01
Pill bottle shake 02
Pill container close
Pill container open
Pill container shake 01
Pill container shake 02
Pill container shake 03
Pills pouring to container
Pills pouring to hand
Pistol empty shell 01
Pistol empty shell 02
Pistol empty shell 03
Pistol empty shell 04
Pistol empty shell 05
Pistol empty shell 06
Pistol empty shell 07
Pistol empty shell 08
Pistol empty shell 09
Pistol empty shell 10
Pit bike drive-by 01
Pit bike drive-by 02
Pit bike drive-by 03
Pit bikes racing 01
Pit bikes racing 02
Pit bikes racing 03
Pit bikes racing 04
Plastic bag rustle 01
Plastic bag rustle 02
Plastic bag rustle 03
Plate set down
Polaroid camera close
Polaroid camera film cartridge load
Polaroid camera film cartridge pull out
Polaroid camera open
Polaroid camera take picture 01
Polaroid camera take picture 02
Police car 01
Police car 02
Police whistle 01
Police whistle 02
Police whistle 03
Police whistle 04
Police whistle - long (3s)
Police whistle - long (4s)
Police whistle - short
Pop corn popping
Pop corn pour
Porch swing squeaking fast
Porch swing squeaking slow
Pot lid close
Pot lid open
Potato chip crack
Potato chip crunch 01
Potato chip crunch 02
Potato chips bag rustle 01
Potato chips bag rustle 02
Potato chips crunching 01
Potato chips crunching 02
Pouring coffee
Pouring liquid 01
Pouring liquid 02
Pouring water 01
Pouring water 02
Pouring water 03
Pressure washer
Private jet fly-by
Private jet fly over 01
Private jet fly over 02
Private jet fly over 03
Private jet landing
Private jet lift-off 01
Private jet lift-off 02
Private jet take-off 01
Private jet take-off 02
Private jet turbines exterior
Propeller plane fly-by
Propeller plane fly over slow 01
Propeller plane fly over slow 02
Propeller plane fly over slow 03
Propeller plane flying steady - exterior
Propeller plane flying steady - interior
Propeller plane idle
Propeller plane lift-off 01
Propeller plane lift-off 02
Propeller plane pass-by on runway 01
Propeller plane pass-by on runway 02
Propeller plane shut-off
Propeller plane take-off
Propeller plane waiting for take-off
Pulling string
Punch 01
Punch 02
Punch 03
Punch 04
Punch 05
Rain 01
Rain 02
Rain 03
Rain 04
Rain 05
Rain 06
Rain downspout
Rain in forest
Rain in nature
Rain on attic roof
Rain on attic roof - pouring
Rain on car roof 01
Rain on car roof 02
Rain on tin roof
Rain on window 01
Rain on window 02
Rain thunder
Rain thunder church bell
Record needle lift up 01
Record needle lift up 02
Record needle scratch
Record needle set down 01
Record needle set down 02
Record needle set down 03
Rescue helicopter fly over
Rescue helicopter flying
Rescue helicopter idle and take-off
Rescue helicopter landing
Restaurant ambience 01
Restaurant ambience 02
Restaurant ambience 03
Restroom door close
Restroom door latch
Revving car engine
Ride-on lawnmower 01
Ride-on lawnmower 02
Riding metro
Riding train
Rifle empty shell 01
Rifle empty shell 02
Rifle empty shell 03
Rifle empty shell 04
Rifle empty shell 05
Rifle empty shell 06
Rifle empty shell 07
Rifle empty shell 08
Rifle empty shell 09
Rifle empty shell 10
Rinsing dishes
River 01
River 02
River 03
River 04
River 05
River 06
Road construction
Rocket flying
Rotary phone 01 dial nr0
Rotary phone 01 dial nr1
Rotary phone 01 dial nr2
Rotary phone 01 dial nr3
Rotary phone 01 dial nr4
Rotary phone 01 dial nr5
Rotary phone 01 dial nr6
Rotary phone 01 dial nr7
Rotary phone 01 dial nr8
Rotary phone 01 dial nr9
Rotary phone 01
Rotary phone 02 dial nr0
Rotary phone 02 dial nr1
Rotary phone 02 dial nr2
Rotary phone 02 dial nr3
Rotary phone 02 dial nr4
Rotary phone 02 dial nr5
Rotary phone 02 dial nr6
Rotary phone 02 dial nr7
Rotary phone 02 dial nr8
Rotary phone 02 dial nr9
Rotary phone 02
Rotary switch
Rowing boat - hit rocky shore
Rowing boat - hit sandy shore
Rowing boat - oars in 01
Rowing boat - oars in 02
Rowing boat - pull ashore
Rowing boat - push into water 01
Rowing boat - push into water 02
Rowing boat - rowing on lake
Rowing boat - rowing - squeaky oars
Rubber squeak 01
Rubber squeak 02
Rubber squeak 03
Rubber squeak 04
Rug carpet beater 01
Rug carpet beater 02
Running on road 01
Running on road 02
Running on road and stopping
Running stream gentle
Safety bar drop 01
Safety bar drop 02
Sander power tool - smoothing wood 01
Sander power tool - smoothing wood 02
Sander power tool - smoothing wood 03
Sandpaper - sanding wood 01
Sandpaper - sanding wood 02
Sandpaper - sanding wood 03
Sandpaper - sanding wood 04
Sandpaper - sanding wood 05
Sandpaper - sanding wood 06
Sandpaper - sanding wood 07
Sandwich shop ambience
Satellite 01
Satellite 02
Sauna water pour
Sawing wood handsaw 01
Sawing wood handsaw 02
Sawing wood handsaw 03
Scissors cutting paper 01
Scissors cutting paper 02
Scissors cutting paper 03
Scissors snip 01
Scissors snip 02
Scissors snip 03
Scissors snip 04
Scissors snip 05
Scissors snip 06
Scissors snip 07
Scissors snip 08
Scissors snip 09
Scissors snip 10
Scissors snip 11
Scissors snip 12
Scissors snip 13
Scissors snip 14
Scissors snip 15
Scraping ice off car windshield 01
Scraping ice off car windshield 02
Scratching skin 01
Scratching skin 02
Sea birds chirping
Seagull squawk
Seagulls squawk
Seat belt buckle
Seat belt unbuckle
Sewing machine 01 - medium/fast
Sewing machine 02 - medium/slow
Sewing machine 03 - medium speed
Sewing machine 04 - short run
Sewing machine 05 - medium speed
Sewing machine 06 - short run
Sewing machine 07 - short run
Sewing machine 08 - slow speed
Sewing machine 09 - slow speed
Sewing machine 10 - fast speed
Sewing machine 11 - fast speed
Sewing machine 12 - fast speed
Sharpening knife 01
Sharpening knife 02
Shaving cream
Shopping mall ambience
Shopping square ambience
Shotgun
Shotgun action close 01
Shotgun action close 02
Shotgun action open 01
Shotgun action open 02
Shotgun empty shell 01
Shotgun empty shell 02
Shotgun empty shell 03
Shotgun empty shell 04
Shotgun empty shell 05
Shotgun empty shell 06
Shotgun empty shell 07
Shotgun empty shell 08
Shotgun empty shell 09
Shotgun empty shell 10
Shovel digging
Shovel hit dirt 01
Shovel hit dirt 02
Shovel hit dirt 03
Shovel into ground
Shovel pull out
Shovel push in
Shovel tapping ground
Shoveling snow 01
Shoveling snow 02
Shoveling snow 03
Shower curtain close
Shower curtain open
Shower door 01
Shower door 02
Shower - taking shower 01
Shower - taking shower 02
Shuffling cards 01
Shuffling cards 02
Shuffling cards 03
Signing paper 01
Signing paper 02
Signing paper 03
Silverware eating sounds 01
Silverware eating sounds 02
Silverware eating sounds 03
Silverware eating sounds 04
Silverware eating sounds 05
Silverware eating sounds 06
Sink filling with water
Siren 01
Siren 02
Siren 03
Siren 04
Sitar transition 01
Sitar transition 02
Sitar transition 03
Sitar transition 04
Sitar transition 05
Ski chair lift ride
Ski lift operating
Ski platter lift
Ski skid stop 01
Ski skid stop 02
Ski skid stop 03
Skier pass-by
Skiing downhill 01
Skiing downhill 02
Skiing downhill 03
Slap in the face
Sliding door close
Sliding door open
Sliding object 01
Sliding object 02
Slurping 01
Slurping 02
Slurping 03
Smack
Small bells ring
Small drawer close 01
Small drawer close 02
Small drawer open 01
Small drawer open 02
Small forest stream
Small glass bottle close 01
Small glass bottle close 02
Small glass bottle open 01
Small glass bottle open 02
Smooch 01
Smooch 02
Smoothie maker
Smoothie maker switch
Sneezing 01
Sneezing 02
Sneezing 03
Sneezing 04
Sniffle 01
Sniffle 02
Snoring 01
Snoring 02
Snoring 03
Snoring 04
Snoring 05
Snoring 06
Snow chunk break
Snowboarders pass-by
Snowmobile arrive and turn off 01
Snowmobile arrive and turn off 02
Snowmobile arrive and turn off 03
Snowmobile arrive and turn off 04
Snowmobile idle rev and turn off
Snowmobile pass-by 01
Snowmobile pass-by 02
Snowmobile pass-by 03
Snowmobile pass-by slow 01
Snowmobile pass-by slow 02
Snowmobile pull cord
Snowmobile take-off 01
Snowmobile take-off 02
Snowmobile take-off 03
Soaking cloth in water 01
Soaking cloth in water 02
Soap dispenser pump
Soap in hands
Soda bottle cap fizz 01
Soda bottle cap fizz 02
Soda can open
Soda pour glass 01
Soda pour glass 02
Space laser 01
Space laser 02
Space laser 03
Space light beam 01
Space light beam 02
Space light beam 03
Space mothership 01
Space mothership 02
Space mothership 03
Space noise 01
Space noise 02
Space ship launch 01
Space ship launch 02
Space ship launch 03
Space ship whoosh by 01
Space ship whoosh by 02
Space ship whoosh by 03
Space ship whoosh by 04
Space ship whoosh by 05
Space ship whoosh by 06
Spinning coin 01
Spinning coin 02
Spinning coin 03
Spinning coin 04
Spinning coin 05
Spring boing 01
Spring boing 02
Spring boing 03
Spring boing 04
Spring boing 05
Spring boing 06
Sprint kart drive-by 01
Sprint kart drive-by 02
Sprint kart drive-by 03
Sprint kart drive-by 04
Sprint kart drive-by 05
Sprint kart racing 01
Sprint kart racing 02
Sprint kart racing 03
Sprint kart racing 04
Squeeze toy 01
Squeeze toy 02
Squeeze toy 03
Squeeze toy 04
Squeeze toy 05
Stapler press 01
Stapler press 02
Stapler press 03
Steam leak
Steam locomotive - arrive & stop
Steam locomotive - depart
Steam locomotive - idle
Steam locomotive - pass-by 01
Steam locomotive - pass-by 02
Steam locomotive - pass-by & whistle
Steam locomotive - pass-by slow 01
Steam locomotive - pass-by slow 02
Steam locomotive - steam release 01
Steam locomotive - steam release 02
Steam locomotive - steam release slow
Steam locomotive - stopped
Steam locomotive - whistle 01
Steam locomotive - whistle 02
Steam locomotive - whistle 03
Steam locomotive - whistle & depart 01
Steam locomotive - whistle & depart 02
Steam locomotive - whistle & pass-by 01
Steam locomotive - whistle & pass-by 02
Stick vacuum cleaner
Storm wind and rain
Storm wind and thunder
Straw slurp 01
Straw slurp 02
Straw slurp 03
Straw slurp 04
Straw slurp 05
Straw slurp 06
Stream
Stream small
String trimmer 01 - operating
String trimmer 02 - start revs off
String trimmer 03 - front perspective
String trimmer 04 - string close up
String trimmer 05 - start operating off
String trimmer idle - cold engine
String trimmer idle - warm engine
String trimmer pull cord
Stunt plane dive 01
Stunt plane dive 02
Stunt plane dive 03
Stunt plane dive 04
Stunt plane dive and fly-by
Stunt plane fly-by 01
Stunt plane fly-by 02
Stunt plane fly-by 03
Stunt plane fly-by fast 01
Stunt plane fly-by fast 02
Stunt plane fly-by fast 03
Subway station
Subway train arrive and stop
Subway train changing tracks
Subway train depart
Subway train passing 01
Subway train passing 02
Subway train ride
Summer by lake
Tablet bottle shake
Tape recorder close
Tape recorder eject
Tea kettle whistle
Telephone calling tone
Telephone dialing 01
Telephone dialing 02
Telephone fast dial 01
Telephone fast dial 02
Telephone fast dial 03
Telephone flatline tone
Telephone line open tone
Telephone line tone cut
Telephone payphone coin drop
Telephone payphone ringing
Telephone ring - classic rotary
Telephone ring - electronic
Telephone ring - office 01
Telephone ring - office 02
Telephone speaker calling tone
Telephone speaker dial
Television static 01
Television static 02
Television static 03
Television static 04
Television static 05
Temple wood blocks 01
Temple wood blocks 02
Temple wood blocks 03
Temple wood blocks 04
Temple wood blocks 05
Tennis ball hit 01
Tennis ball hit 02
Tennis ball hits the ground 01
Tennis ball hits the ground 02
Timer beeping
Timer button beep
Timer countdown
Timpani 01
Timpani 02
Timpani 03
Timpani 04
Timpani 05
Tire deflating
Toaster lever down 01
Toaster lever down 02
Toaster lever up 01
Toaster lever up 02
Toilet flush 01
Toilet flush 02
Toilet flush 03
Toilet flush 04
Toilet flush 05
Toilet seat cover down 01
Toilet seat cover down 02
Toilet seat cover up
Touchtone phone fast dialing 01
Touchtone phone fast dialing 02
Touchtone phone fast dialing 03
Toy car roll 01
Toy car roll 02
Toy car roll 03
Toy car roll 04
Toy hammer 01
Toy hammer 02
Tractor drive-by fast on highway
Tractor idling
Tractor operating 01
Tractor operating 02
Tractor reversing
Tractor starting
Traffic ambience wet road 01
Traffic ambience wet road 02
Train crossing bell
Train crossing bell - train crossing fast
Train crossing bell - train crossing slow
Train depart with whistle 01
Train depart with whistle 02
Train interior ambience 01
Train interior ambience 02
Train pass-by 01
Train pass-by 02
Train pass-by 03
Train pass-by 04
Train pass-by with whistle 01
Train pass-by with whistle 02
Train station ambience 01
Train station ambience 02
Train whistle 01
Train whistle 02
Tram ride - interior
Trapdoor close
Treadmill run
Treadmill walk
Tree branch cracking 01
Tree branch cracking 02
Truck departing 01
Truck departing 02
Truck door close
Truck door open
Truck idling 01
Truck idling 02
Truck idling 03
Truck pass-by 01
Truck pass-by 02
Truck pass-by 03
Truck pass-by 04
Truck pass-by 05
Truck pass-by slow 01
Truck pass-by slow 02
Truck pass-by slow 03
Truck pass-by wet road
Truck reversing
Truck speeding up
Truck turning at intersection 01
Truck turning at intersection 02
Tumbling in the forest
Turnstile gate
Type effect beeps - screen monitor 01
Type effect beeps - screen monitor 02
Type effect beeps - screen monitor 03
Typewriter backspace
Typewriter carriage forward 01
Typewriter carriage forward 02
Typewriter carriage forward 03
Typewriter carriage forward 04
Typewriter carriage return
Typewriter keystroke 01
Typewriter keystroke 02
Typewriter line break 01
Typewriter line break 02
Typewriter paper insert 01
Typewriter paper insert 02
Typewriter paper insert 03
Typewriter paper out 01
Typewriter paper out 02
Typewriter roll paper
Typewriter space bar 01
Typewriter space bar 02
UFO 01
UFO 02
UFO 03
UFO 04
UFO 05
Urinal flush 01
Urinal flush 02
Urinating 01
Urinating 02
Vacuum cleaner
Van arrive and shut off
Van back door close
Van back door open
Van idle and shut off
Van idling
Van large pass-by
Van pass-by 01
Van pass-by 02
Van pass-by fast
Van pass-by slow
Van riding interior
Van side door slide close - exterior
Van side door slide close - interior
Van side door slide open - exterior
Van side door slide open - interior
Van start and reverse away
Van starting
VCR fast forward 01
VCR fast forward 02
VCR play
VCR rewind 01
VCR rewind 02
VCR tape eject 01
VCR tape eject 02
VCR tape insert 01
VCR tape insert 02
VCR tape push in
VCR tape remove
Velcro strap 01
Velcro strap 02
Vibration
Vintage 35mm metal film can close 01
Vintage 35mm metal film can close 02
Vintage 35mm metal film can open 01
Vintage 35mm metal film can open 02
Vintage 35mm metal film can set down
Walking in water 01
Walking in water 02
Walking on gravel 01
Walking on gravel 02
Walking with skis on
Wallet zipper
Washer - washing machine 01
Washer - washing machine 02
Washer - washing machine 03
Washing dishes
Washing hands
Water basin fill
Water boiling
Water bubbles
Water bubbling
Water bucket emptying
Water bucket fill
Water drain emptying
Water droplet 01
Water droplet 02
Water droplets 01
Water droplets 02
Water emptying into drain
Water fountain 01
Water fountain 02
Water from faucet
Water glass fill 01
Water glass fill 02
Water gurgle
Water pump electric off
Water pump electric start
Water splash rock 01
Water splash rock 02
Water splash rock 03
Water spray bottle 01
Water spray bottle 02
Water stream forest 01
Water stream forest 02
Water stream forest 03
Water stream in park
Waterfall 01
Waterfall 02
Waves lapping against boat 01
Waves lapping against boat 02
Whip crack 01
Whip crack 02
Whip movement
Whip whoosh 01
Whip whoosh 02
Whip whoosh 03
Whip whoosh 04
Whip whoosh 05
Whip whoosh 06
Whistle high pitch 01
Whistle high pitch 02
Whistle high pitch 03
Whistle sports 01
Whistle sports 02
Whistle sports 03
Whistle sports 04
Whoosh and bell
Whoosh and bong
Whoosh and hit
Whoosh transition 01
Whoosh transition 02
Whoosh transition 03
Whoosh transition 04
Whoosh transition 05
Whoosh transition 06
Whoosh transition 07
Wind - breeze 01
Wind - breeze 02
Wind - howl 01
Wind - howl 02
Wind - strong 01
Wind - strong 02
Wind - with rain
Wind chime 01
Wind chime 02
Window close 01
Window close 02
Window knock 01
Window knock 02
Window knock 03
Window knock 04
Window knock 05
Window knock 06
Window knock 07
Window knock 08
Window knock 09
Window knock 10
Window knock 11
Window knock 12
Window knock 13
Window knock 14
Window knock 15
Window knock 16
Window open
Window open and close
Windy forest ambience 01
Windy forest ambience 02
Wine bottle cork pop 01
Wine bottle cork pop 02
Wine glass set down 01
Wine glass set down 02
Wine glass toast clink 01
Wine glass toast clink 02
Wine glass toast clink 03
Wine glass toast clink 04
Witch: "Don't be scared" 01
Witch: "Don't be scared" 02
Witch laugh 01
Witch laugh 02
Witch laugh 03
Witch laugh 04
Witch laugh 05
Witch: "Trick or treat"
Woman scream 01
Woman scream 02
Woman scream 03
Woman scream 04
Woman scream 05
Wood block slide down 01
Wood block slide down 02
Wood block slide down 03
Wood block slide up 01
Wood block slide up 02
Wood block slide up 03
Wood burning kitchen stove
Wood chop hit 01
Wood chop hit 02
Wood chop hit 03
Wood chop hit 04
Wooden bench squeak 01
Wooden bench squeak 02
Wooden frame window close
Wooden frame window open
Wooden sliding door
Zipper 01
Zipper 02
Zipper 03
Zipper 04
Zipper 05

The purchase price includes all licensing and usage fees. You can use the sound effects as many times as you wish in your projects without paying additional royalty fees. All sound effects in the pack are completely legal and safe to use. *Read the license agreement here.

Download them once and use them forever. No recurring royalties. No hidden costs.

The sound effects are delivered in both Wav and Mp3 formats.

Download the sound effects directly to your computer. We are offering this sound pack for instant download after purchase so you can begin using the sounds instantly. Download speeds will vary depending on your internet connection.

When you click the 'Download Now' button below, you'll be taken to the secure order system at PayPal. PayPal, owned by eBay, is a well-established and trusted online payment processor. Buying through PayPal is safer than most offline credit card purchases.

After your payment, you will immediately receive an email with your download link where you can download all 3000 sound effects at once with only a few clicks.




Get Instant Access to
3000 High-Quality Sound Effects
YES! Give me access to 3000 ROYALTY FREE sound effects now!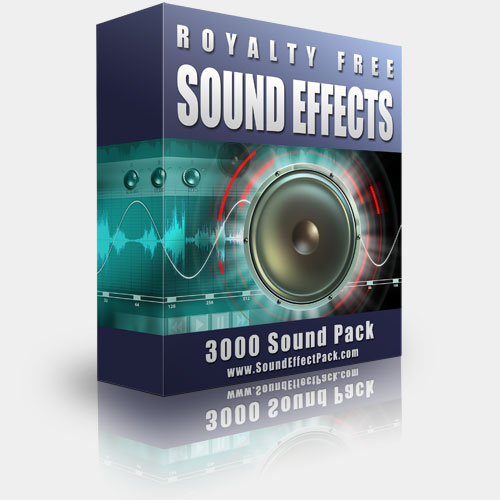 Winter Sale Offer - 70% OFF
Regular Price $100.00
Now only $29.99
(Offer Expires Feb 20, 2018)
One-Time Secure Payment. No Recurring Fees.
Instant Download After Payment.
No Physical Product Will Be Shipped.
100% Satisfaction Guaranteed!